The season of spring brings about so much excitement as everything around us seems to be coming back to life. This feeling rings especially true in the Queen City as COVID restrictions are easing, vaccines are being distributed, and there looks to be a light at the end of this tunnel. So, what better way to celebrate this time of year, than by bringing your home back to life with some beautiful flowers and plant life.
There is nothing that says 'Welcome Home' quite like a vase of fresh flowers in a traditional foyer or a touch of green in a clean, modern space. To make your search for the perfect vegetation, we have rounded up our best places to buy plants and flowers for the plant lovers in the area.
Home Improvement Stores
One of the most common places to buy plants is your nearby home improvement store, like Lowe's & Home Depot. Although these stores may lack a small business feel, you are sure to have access to a wide variety of plants and flowers at an affordable price; not to mention you can pick-up any other spring-cleaning items while your there. Find the Lowe's or Home Depot nearest you today by clicking the links.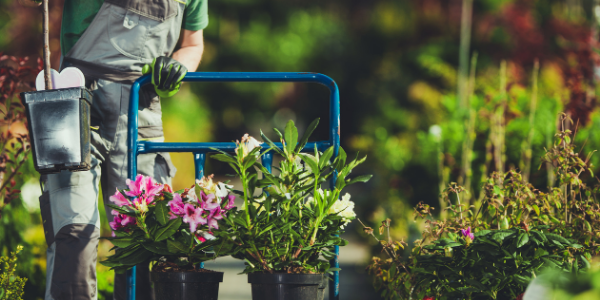 Nurseries & Garden Centers
If you are just in the market for plants, then we would recommend paying a visit to one of Charlotte's many nurseries. They are the perfect place to find something unique while supporting a local business. A few of our favorites include Campbell's Greenhouse & Nursery, Rountree Nursery & Supply, Banner Nursery & Garden Center, and Pike Nurseries.
Plant Bars
The newest craze in the city is the recent opening of PlantHouse, an experienced-based terrarium workshop and premium plant store that combines plant-based activities, products, and environments that bring people together in a way that inspires connection and creativity. Located off of Park Road, this plant bar is more of a premium option for avid plant enthusiasts to explore or for a fun activity for newbies looking to get their hands dirty.
Flower Shops
The first stop for flowers is usually the flower shop and there's plenty all over the Charlotte metro area. Flower shops are ideal for hand-crafted arrangements and floral designs, that can truly bring life and luxury into your home. A few of our frequented spots include The Blossom Shop, Nectar, Midwood Flower Shop, Kelilabee, and Southern Blossom.
Wholesale
Looking to shop where the florists do? Take a trip to the Charlotte Flower Market, the only wholesale florist in North Carolina Open to the Public. The Charlotte Flower Market carries an extensive selection of wholesale fresh flowers for you to see, touch, smell and shop at wholesale prices. And if you need a specific variety or color of flower, they can special order fresh flowers direct from farms around the world. This is the best spot for all you DIY-ers!
We can't wait to see the ways you up your curb appeal and interiors this Spring with all of these great options. Need some inspo? Visit our Pinterest board, Curb Appeal.